WildTracks is happy to present the 2002-2003 Best Ocicat in CFA Championship and 14th Best Cat!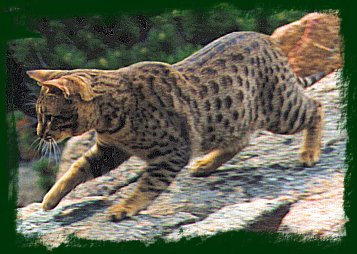 Wild looks . . . bold spot patterns . . . playful . . . yet friendly & social -- these are the characteristics that WildTracks Cattery strives for in every distinctive Ocicat kitten and cat we raise. The Ocicat is a unique cat bred for a "back to the wild" look, yet its ancestry of domestic cats provides a gentle, fun-loving pet for your home. WildTracks is dedicated to developing the best of these fine Ocicats.
From the heart of the Rockies, WildTracks cats come from an award-winning stock of foundation cats. These cats are shown around the country, and occasionally we have kittens or cats available. Take a look at some of the information about our Ocicat home and cattery using the buttons on the left.
Be sure to try our virtual Guided Tour Through a Cat Show! See the "Shows & Awards" section for more on cat shows.
WildTracks is registered with the Cat Fanciers Association (CFA) and The International Cat Association (TICA).