WildTracks on the Covers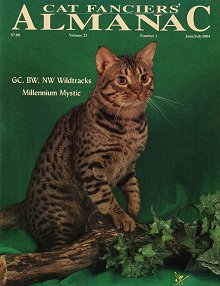 Getting your picture on the cover of the Cat Fancier's Almanac has been likened to the cat-equivalent of getting your picture on the cover of Rolling Stone! This is WildTracks Millennium Mystic, 2002-2003 Best Ocicat in CFA Championship and 14th best cat of all breeds in CFA for 2003.
The magazine Ocicats of North America publishes a monthly magazine about Ocicats. WildTracks cats and kittens have appeared several times on the covers of these magazines, having won "Best Cat (or Kitten) in Show" at one or more regional shows. Here from left to right are Talisman, Stalker, and Majordomo.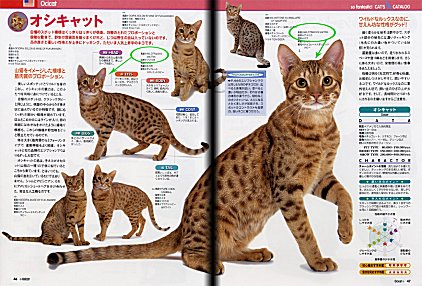 WildTracks cats are in print even in Japan! Above is WildTracks Matrix, shown in the "Cat's Catalog 2005", shown as an example of the Ocicat breed. Matrix is a centerfold!